You can buy my pictures in art quality prints.
Have you ever had an art print in the hands?
This is the guarantee of an outstanding result to hang ... home!
Here is some information to help you understand my choice.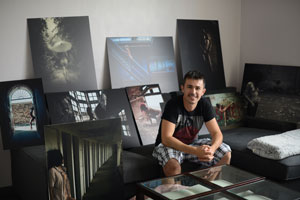 What is a print of art or a "fine art print "?
The label 'art print' is strictly established by French law and must meet the following requirements:
- The photograph must be taken by the artist
- it must be printed by him or under his control ,
- it must be signed and numbered within thirty copies, all sizes and mediums included.
More than a casual print, "Fine Art " prints or " art prints" transform an image into a work of art. They are based on high-end printing process used by the most prestigious museums.
Originally, this method was used in the art market and especially for art collectors.
It is elaborated from the subtle combination of a neutral pH paper made of natural fibers (100 years longevity guarantee) with pigment inks, and besides all the expertise of a professional craftsman. He offers the guarantee and respect of the graphic chain between the creation of the image and its printing.
The photographs on this site are available as art museum quality prints (paper "Hahnemühle eligible to Digigraphie) or premium quality (FPP 290g), using pigment inks Epson UltraChrome K3
The Hahnemühle papers combined with ultrachromes K3 inks have a guaranteed life of 100 years and meet the requirements of museums, galleries and other collectors ... and easier for anyone keen to aquérir a work of high quality.
Their main characteristic is the result of their ability to merge the authenticity of the papers Fine Arts made the traditional way with the accuracy of digital impressions, ensuring exceptional results in line with galleries and museums quality standards. Known for their high visual quality and exceptional grain, they are resistant to aging and are simply beautiful ...!

Fuji Photo Paper 290g Pearl resistant and has a pearly surface with a soft and solid texture, protected against marks and scratches. Its particularly clean and efficient rendering it a fine art print / quality ratio excellent price.
Authenticity
Each print is available in a limited edition, from 2 to a maximum of 20 copies numbered, all authenticated and signed by me. They are numbered, signed, guaranteeing you a very limited number of copies. By choosing to offer an art print of one of my creations, you are guaranteed that the result will be of perfect quality.
Sizes
You can choose pictures in several formats.
Here are the most commonly offered: 12*18 inches, 16*24 inches, 20*30 inches and  24*36 inches.
Some images (very little!) have characteristics that require a different format (3/4)
However, it is possible to print images in other formats, smaller or larger. Contact me for any request and I will be happy to respond quickly.
Mediums
The following prints are available: as
- Print on a paper sheet: (you receive the print sheet alone, very well protected). It is up to you to frame it according to your own desires and means. This rate is of course most affordable.
- Picture on Dibond board: It is a collage on a 2mm Dibond board with flexible lamination for UV protection. It is the best solution, a great quality/price value.
The Dibond is a composite material, with some black polyethylene fixed between two aluminum plates with a white coating. The picture is glued against this thin and rigid support, perfectly flat. Two notches on the back of the board make it very easy to put on a wall. There is no frame: the picture is optimized and pure. The best solution for a ready to hang artwork (see image below).
The dibond is BACKED IN HAND ONLY in Paris:  NO MAIL
To help you choose, only two price options are practiced.
So you can choose an art print on Hahnemühle paper (museum quality) or FPP (premium quality), the sheet (single photo) or dibond / aluminum (see example above, hand delivery only dibond / Alu: no mailing for bonding against unless special request).
If you want to offer an art print to someone and giving him the choice of the image, consider ordering a gift voucher. An ideal solution to please without any risk! Click here to learn more.
Payment Methods
CB / Paypal / Bank Transfer /Cash
You want to offer a print? Give a gift voucher, the easy way to please!